Anything by Austen is automatic Shidduch Lit, because it describes a time when courtship and marriage consisted of rules and regulations ("dating" was strictly for marriage, etc.). Yet I have read two books that tackle the other aspect of coupledom—the thought processes, the motivations, why we choose.
The first is a recommendation from TooYoungToTeach, The Guernsey Literary and Potato Peel Pie Society
by Annie Barrows and Mary Ann Shaffer. I know it's quite a mouthful, and I'm sure I'm mispronouncing "
Guernsey."
It is a collection of "letters" (this is a novel) between various individuals (as well as our delightful heroine, Juliet) in post-World War II Britain, as the nationals were brushing off the dust of catastrophe and plowing forward into the future. It's historical enough that "dating" still had some restrictions, so we can work with that.
The second is a recommendation from an anonymous commenter on my post swooning over Liane Moriarty: The Brightest Star in the Sky by Marian Keyes. It takes place in contemporary Dublin, and there are certainly no rules and regulations to be seen. Cough, cough, this book is definitely UA ("Un-Aidel").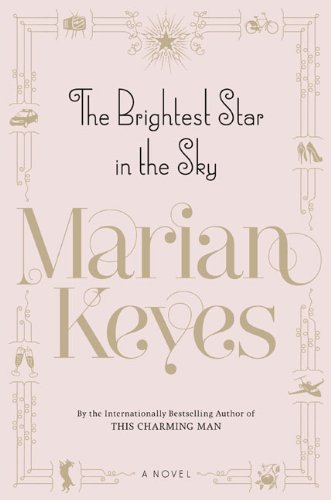 A few, not just one, couples are featured in this book, and their specific personalities and quirks are described in but a few words. Their needs as individuals, and how that would play out in a relationship . . . mesmerizing.
There was also a message embedded in there that is my (newish) mantra: You can't make others change. They have to get there on their own. You can only change yourself. (Another reminder to the optimistic souls who think they can heal broken, angry men with their love.)
I was offended to see that goodreads parks Keyes' work under chick-lit. How insulting and derogatory.
What is very important to note is that both books are quite funny while still relaying seriousness. Humor and wit are my catnip.