A blood-curdling shriek emanates from the basement.
I launch away from my breakfast, grabbing a "bee-deader" (Luke's childhood name for a fly-swatter) as I hurl down the steps. There he is, my antennae-waving prey: A fat cricket.
Ma is the fearless one. She wacks ants with her bare palm. She dismisses the terrified wails of the kinfauna when faced with a spider. Mosquitoes fear her.
But crickets, you must agree, are a different matter entirely. They're disturbingly intelligent.
I creep toward my target. He doesn't move, dreamily rubbing his legs. I hold my breath. He doesn't bat a lash. I slowly, slowly, raise the swatter. He yawns. I lunge.
On those jumper legs, he's across the room in a blink of an eye. I've lost him.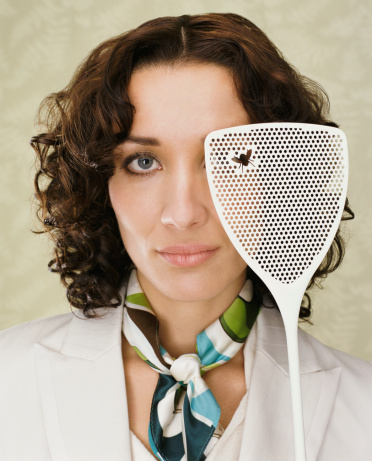 Last year Succos-time, with murderous fall upon them, they actually had the nerve to brazenly emerge from the basement, strolling about the den as though invited. It was insupportable. They had to die.
I researched a number of options, and settled on glue traps. I didn't expect much, really. I baited the center with a little sugar, leaving three in the hot zone—the boiler room—and few more at random points to tempt the survivors.
Hot diggety damn. The old-timers were the first to go, large and immobile with their heads drowning in sugar. Then, the next generation was caught, small and un-cute, four on one strip.
All that was required of me was to gingerly pick up the cluttered trap with "ew ew ew" forefinger and thumb, then chuck it into the garbage.
So is the end for the creature that mocks me.