One of the contemporary issues is the saddening existence of agunos, women who are bound in a travesty of marriage from vindictive husbands. There has been some chatter to add a clause in kesubos to avoid the problem altogether, but it doesn't seem to be catching on.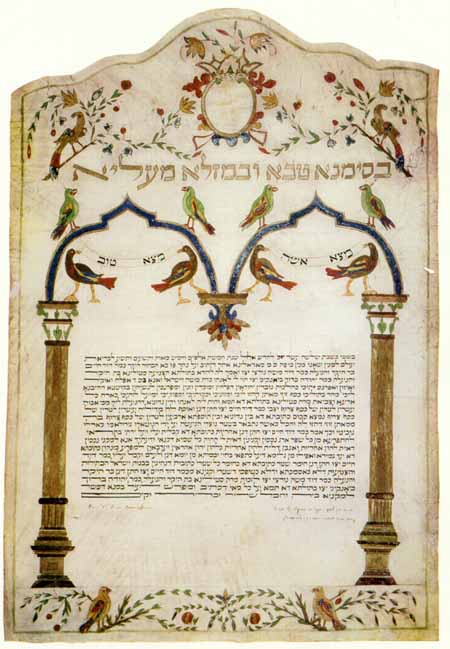 Perhaps our squeamishness to meddle with the classical text would be allayed if we were aware of what was the sort of clauses that were in the marriage documents way back when:
Outhwaite's team, for example, has uncovered a prenuptial agreement in which Faiza bat Solomon made her fiancé, Tobias — nicknamed "Son of a Buffoon" — promise to "abandon foolishness and idiocy," and "not associate with corrupt men," or face a hefty penalty of 10 gold dinars. Another document spells out a legal agreement between Sitt I-Nasab and her husband, Solomon, preventing his mother and sisters from entering his wife's quarters or making "any request of her at all, not even a match."
Here I was panicking that I may have to diplomatically navigate shviggur-infested waters, but I could easily insert a clause that my mother-in-law can never insult my cooking!
Scene: Cairo, 1182 C.E., Solomon Residence
Tobias knocks on the front door and asks Solomon for Faiza's hand in marriage. Solomon says, "Hang on, let me ask."
"So, Faiza, Tobias has asked for your hand!"
"Tobias? 'The Son of a Buffoon'? Are you kidding me?"
"I'm sure his foolishness, idiocy, and association with corrupt men will change with marriage."
"Abba, please, I'm not taking that on faith. I want that in writing."
"OK. How much should the penalty be?"
"Let's see . . . 10 dinars? I could build up quite a nest-egg that way."
Solomon hurries back to Tobias. "No problem! If I could just scratch in a teeny-tiny condition . . . got a quill?"
What would I stick into my prenup? Must attend davening on time except in instances of travel, illness, and hostage situations. Penalty: Wife may purchase a pair of shoes and he must remain silent about lack of storage space.