Fermented foods are trending, for their believed nurturing of gut microbes, amongst other health perks. Hey, I'm game.
I first posted about the thingamabob I purchased to aid in my fermenting experiments, although I was not exactly wowed by the results. Even though I dutifully followed the directions, my sauerkraut was dry and seemed immature, so to speak.
The King of Fermentation is, of course, Hungarian: Sandor Katz.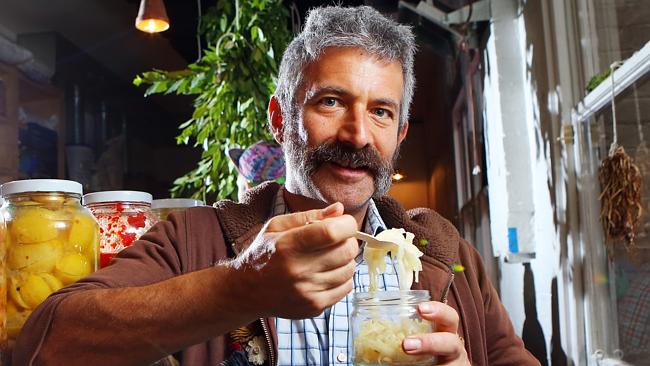 He must be awesome for that facial hair alone.
After scrolling through his instructions online, I decided to try two things: (1) Massaging the shredded cabbage and carrots for ten minutes and (2) despite the Perfect Pickler's forbidding, I would allow it to ferment for longer than 4 days.
After emptying the food processor into a bowl, I stuck my hands in and massaged the mess for ten minutes. It seemed as though nothing was going on, until minute 9—when suddenly the liquid released, rewarding me with official brine. Yes!
Fermentation can slow when the temp is colder, hasten when warmer. The spot in the basement that I had selected for my jar was more on the chillier side, and I left it there, with checking, for 8 days. I probably could have gone longer, but I wanted to be sure I didn't poison myself first.
My first tasting followed a full meal; I dolloped some on top of halved campari tomatoes and bravely nibbled. My stomach felt fabulous after eating it; the tightness of my dinner vanished, replaced by a pleasant percolating. Noice.
Next test: Feed it to Ta subtly with his paprikash and wait for any objections. None came.
By George, I think I've got it! Next, kvass.