I was poking around my sister's Purim haul; 90% was the usual multi-colored processed sugar. But there was one neatly boxed offering clearly labeled "Raw Date Balls," along with a convenient ingredient list: "dates, almonds, and chocolate chips."
I took a bite, and was hooked.
Since my family does not brok, the majority of our Pesach delicacies is sweetened air, which means an individual can consume an entire sponge cake in one sitting. I am always on the search for a more filling option that is kid-friendly, but they don't seem to be crazy about nut cakes. I don't blame them.
Oh Nuts! carries Kosher l'Pesach Medjool dates, and ground nuts are readily available. But I have one niggling problem: I don't have a food processor for Pesach. We barely use the year-round one as it is. Although, now that I think about it, I should use it for when I make cucumber salad.
I had to work out the method. I searched a bit more, and found a recipe in which the dates are mashed, not pulverized, by Beauty Munsta. Medjool dates are so soft and moist that mashing them with a fork takes less labor than mashing Shabbos egg salad.
A further benefit: With fork mashing, as opposed to food processing, I can make these on yontif!
My difficulty, though, was trying to figure out the date-to-nut ratio. Different recipes provide different measurements. But after numerous comparisons, I decided on about 5 dates to around 1/4 to 1/3 cup of ground nuts. That and a splash of vanilla e
xtract were presented to Luke for a taste test.
He was excited at the idea of an energy ball during Pesach, but he found them too sweet (he also referred to them, quite maturely, as "poopie balls," for their hue). True, they are as sweet as cake batter. Chocolate Covered Katie calls hers "Cookie Dough Babies," after all. Medjool dates are insanely sweet, while containing fiber and nutrients. But they aren't exactly calorie-free; one medjool date consist of 66 calories and 16 grams of sugar. It takes five dates (along with healthy but fattening nuts) to make four balls, and that's nearly 500 calories. I don't think I can stop at one.
In order to cut the sweet, I could add cocoa (various recipes call from anywhere around 1 teaspoon to 2/3 cup), but why waste all that sweet if I'm paying for the calories anyway? I scrounged about some more, and I came across a comment to a date ball recipe which reported that the dates could be partially replaced with chestnuts.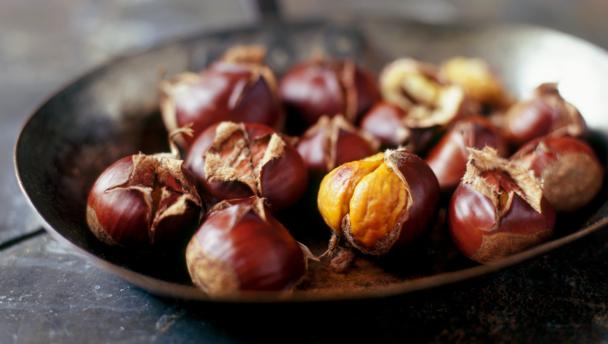 OOOOH.
100 grams of chestnuts vs. 100 grams of medjool dates: 75 calories less, half of the carbs, while also containing beneficial nutrients. Dates are straight sugar (66 grams); chestnuts would lower the sugar register (10 grams), creating satisfaction as opposed to a sugar addiction. When it comes to fiber, though, dates win: 7 grams, as opposed to 5 grams (not nothing!) in chestnuts.
I found a recipe for chestnut balls, and I planned to replace the honey with dates for the binding material. A number of brands carry Kosher l'Pesach chestnuts, such as Gefen and Seasons. Or buy whole and get them out of the shell any which way.
They were soon on my doorstep, and I began to experiment. Again, no food processor, so I mashed them with a fork. I used one bag's worth, 5.2 oz = 150 g = 21 chestnuts (I counted). I added the dates one by one to see how many are needed to bind the mixture, along with a few splashes of vanilla extract.
One of the recipes for the date balls calls for soaking the dates prior, in room temp water for an hour, in hot for a few minutes. I ended up soaking only one, but it really makes them easier to work with.
SUCCESS!
I used a number of add-ins: chopped walnuts, cocoa, chocolate chips. The one ones to the right-ish were coated: ground walnuts, sprinkles, cocoa, and confectionery sugar.
Now, don't hit me, but I don't exactly have a perfect, exact recipe. I wanted to experiment to the point of generality so that I don't use up my Kosher l'Pesach chestnuts prior to yontif.
Pesach Friendly Chestnut-Date Truffles
(10 truffles)
Approximately 20 chestnuts
Around four medjool dates
Vanilla extract (optional)
dash of salt
Optional add-ins:
Cocoa
Cinnamon
Chocolate chips
Chopped nuts
And so on
Optional toppings:
Cocoa
Ground nuts
Sprinkles
Confectionery sugar
Melted chocolate
Etc.
1) Mash or grind chestnuts. I mashed them with a fork, but if one has a food processor, definitely use that. Shoot for a ground-like consistency. Another way, I also learned, is to put the chestnuts in a bag and wack 'em to smithereens with a blunt instrument.
2) Mash in dates. Soaking them prior would add some moisture and make them easier to work with. Go gently there, since I don't have exact quantities down pat. Maybe two soaked, two unsoaked? Ah, I don't know! After Pesach I'll have it worked out.
3) See if the mixture is willing to be rolled into balls by pinching off a bit and seeing if it sticks together. At this point, chuck in any add-ins. If not, add another date.
4) For cocoa, add desired quantity, 1 teaspoon and anywhere above. There's also cinnamon. Or some chopped nuts. Mayhap a handful of chocolate chips.
5) Wet hands and roll mixture into balls. Wetting the hands prior to rolling makes a big difference.
6) Since the color may not be very attractive, feel free to roll the truffles into ground nuts, cocoa, sprinkles, confectionery sugar, etc.
7) Refrigerate to store. Can last a good while in there, from what I hear.
I divided up the batter and tried, separately, cocoa, chocolate chips, and ground nuts, and also a variety of different toppings.