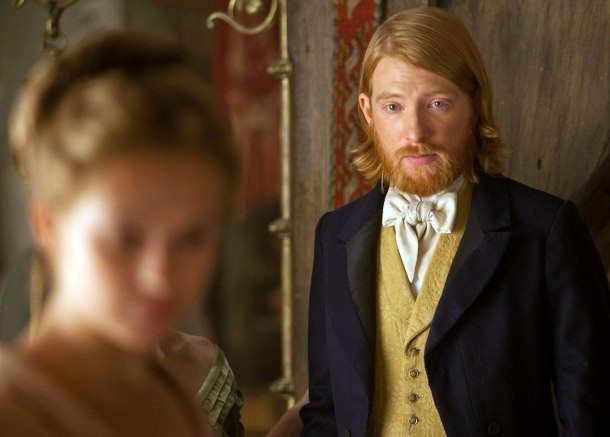 Levin's a nice guy. He's trying to work things out. He makes some mistakes. He attempts to rectify them. He's a pleasant fellow muddling through life to find his purpose, like most of us are.
I can't stand unpleasant characters. The vindictive, mean, and downright cruel do not interest me. One of the reasons why I can't tolerate Downton Abbey is Thomas, the spiteful, conniving once-footman (I don't know what his title is now).
. . . when it comes to literary characters, reader taste has generally followed the old saying: "Heaven for comfort; hell for company." No one has ever preferred Amelia to Becky in "Vanity Fair," or Melanie to Scarlett in "Gone With the Wind."
Really? I can't stand Scarlett, and would wholeheartedly favor Melanie if not for her passionate racism.
But as anyone who has earnestly attempted it will admit, being good is to feel far more at odds with the world than being bad does. It is the cumulation of calculated social compromises, purposeful acts of communion, and meticulous emotional arithmetic. Commonplace wickedness, meanwhile, is seldom the result of anything more devious than inattention to the feelings and realities of other people. Living virtuously is hard. It takes generative intellectual work that is far more interesting than the defensiveness of "being bad." I would rather consider the challenges that go into a consciously lived life than the inevitably hurtful products of a cruel one.
A truly radical 21st-century novelist wouldn't ask us to see ourselves in made-up villains, and then, hopefully, revise our opinions of the real ones in our own lives. Rather, they would ask us to see the arduous and often acrobatic effort that goes into living a life of common decency. They would coerce us into believing that virtue is interesting and fun to think about and far more dazzling to encounter than malevolence.
In her 1947 book "Gravity and Grace," Simone Weil wrote: "Imaginary evil is romantic and varied; real evil is gloomy, monotonous, barren, boring. Imaginary good is boring; real good is always new, marvelous, intoxicating."
It's "unfashionable," Gregory writes, but "
It's time that goodness be shown in all its relentless torment and sacrifice."