One year, it was a sweltering September.
I arrived to shul for Rosh HaShana, shvitzing under my lightest possible in-between (neither summer nor winter) getup and nearly burst out laughing.

Many of the women were wearing their brand-new knobby wool suits; some even teetered in knee-high boots. No way were they going to wait until it was actually cold.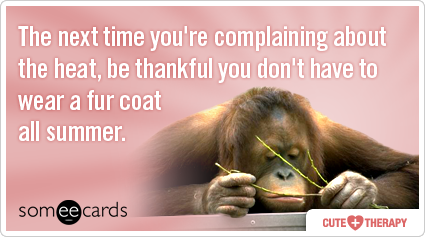 Then, in the dead of winter, these same women can be seen on a Shabbos day of 35 degrees under a mink coat, but with pumps on their feet, rather than the now-appropriate boots.
Last year, on the first chilly day in September (all of 65 degrees), women walked the streets of Manhattan in suede footwear, wool skirts, and opaque tights. One that I saw even donned a rabbit-fur cape.
Then they'll be the first ones to whine in February how they can't wait to wear flip-flops.
I know how it is. After spending months in seasonal attire, one gets bored. One wants to whip out the newly purchased for the next weather pattern already.
Wait. It'll just be a few weeks. Wait, until the weather actually reflects the ensemble. It won't be long. Then you won't be bored of your boots by November 1.