A while back I decided to sift through all the Only Simchas! weddings from the dawn of the website. Not to gaze upon the happily marrieds and wistfully dream of a nuptials of my own. Rather, to analyze the gowns.
Lavan Bridal
The grandmother that gifted me with a genetic desire to slather my face in night cream is also a connoisseur of clothing construction. Despite her current feebleness and flirtation with dementia, when I visit her I immediately twirl, having donned a look strictly for her enjoyment. She then beckons me closer and rubs the fabric between her fingers, eyeing my getup up and down to take in the lines and cut.
She has so far asked for a few pairs of my shoes.
So, I shall insist that fetish for garments is another familial aberration, and my clicking through thousands of photos to see the current styles in vogue/available does not mean I am the desperate female seeking a man so she can have "HER DAY."
Here are a few conclusions (visualize all the photos below with sleeves and proper collars):
1) Short girls should not wear a-line or mermaid. These looks elongate the torso, making it look as though the lower half of the body begins later, so when the gown hits the floor, the kallah looks as though her legs have been cut off by the knee. The short should stick to ball gowns. (Randy from Say Yes To The Dress will back me on this. Ball gowns make the short look taller).


2) 3/4 length sleeve wisely. 3/4 sleeves can make the arms look longer, so sometimes the kallah looks as though her hands are brushing her knees. This is not a given, but be aware of that possibility.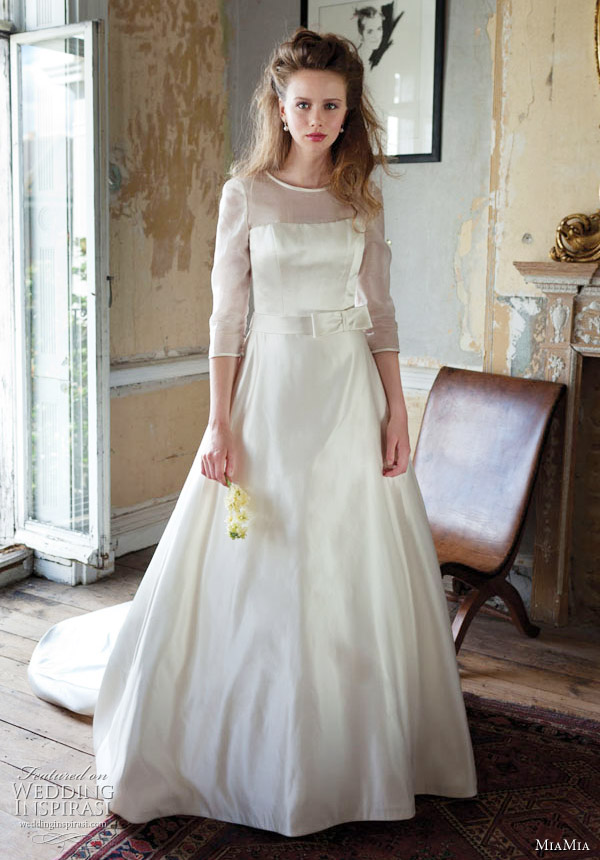 3) Careful with the round collar. If the collar fits too snugly on the neck, let's say while in the process of building up a gown, the front of the dress may not sit right, bunching up. Either opt for a collar that is not so tight on the neckline, or try a square collar.
4) Please, no empire waists.
5) In terms of details such as bows and paneling to highlight certain areas: sashes should be placed on the waist or lower. No higher.
That top line is a no-no. The one thing that should be emphasized is the waist, which looks here deceptively non-existent.
Waists, drop waists or mermaid tails can have sashes defining that area. But no need to have sashes or paneling above that mark, around the, ahem, chest area, unless the gown has a wide sash/stomacher.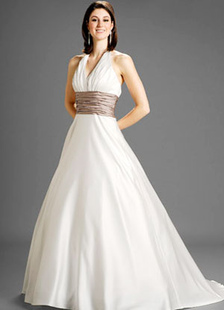 This concept is better, because it holds in and defines the stomach and waist rather than drawing attention . . . above.
6) If going with the mermaid look, where the gown is tight then flares out, it has to flare. Not remain a closed, tight, ball of fabric. If one wants a more contained look on the bottom, rather seek out an a-line graduated flare on the bottom, rather than mermaid.
7) No one wants to look back at their wedding gown and think, "Man, that looks soooooo dated." Try to avoid trendy, noticeable details so the grandkids (or your little sister) won't laugh. Like the flared sleeve. It was so sharp in 2002, now, not so much.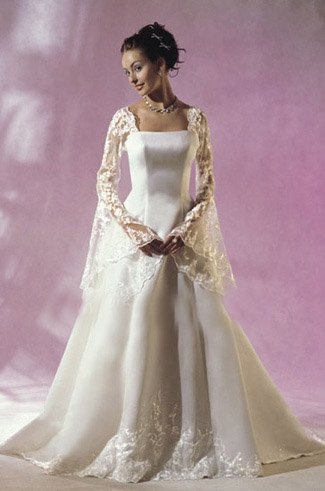 8) Iridescent sequins, I find, do not sparkle classily on a wedding gown; if one likes bling, go with rhinestone details instead. But in any case, a little sparkle goes a long way.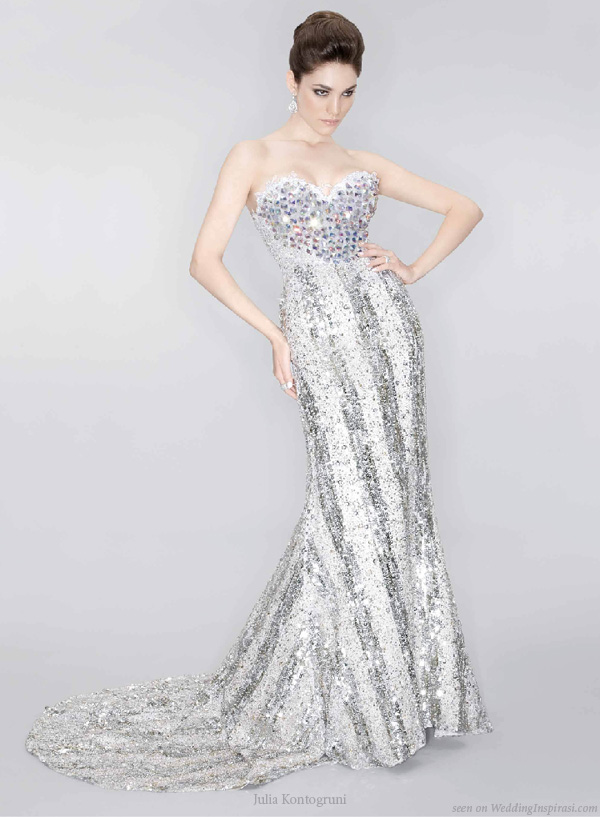 Ad nauseum.
9) Remember what flatters, whether pear or apple. Just because something looks magnificent on the hanger or on that other kallah does not mean it will suit you. Pears: ball gown. Apples: more of a drop waist, and it may take a bit of looking around to find one that holds in the stomach.
Peplum for the apple!
10) When in doubt, either:
Grace Kelly.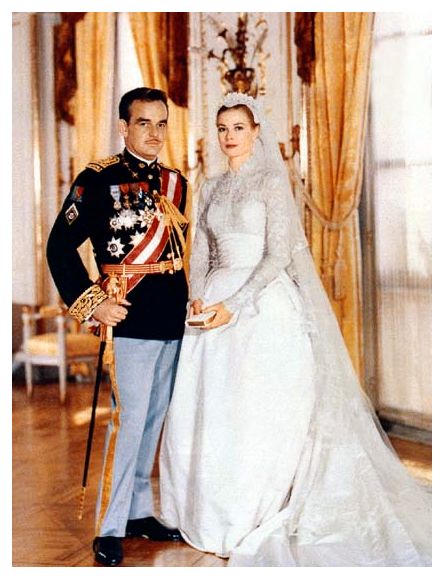 This dress is sublime. There is no other that can match it.
One last point, even though it doesn't have to do with wedding gowns:
I am not a fan of this "family wearing white" thing. The kallah's stuck when it comes to her gown color; no need to wear a wedding gown, too. The bridal party should be wearing other colors to liven up the place.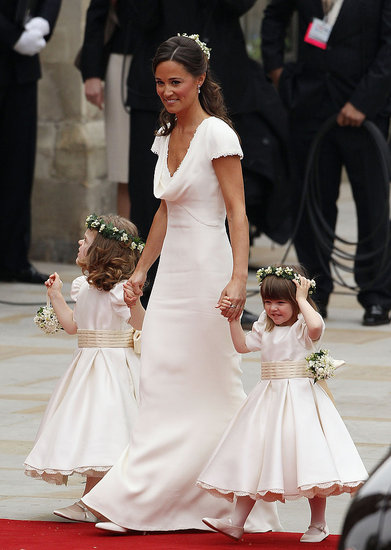 Boooo.
How about some jewel tones instead?