There was always one territory on my face I was afraid of tackling on my own:

E

yebrows.
Via vivaadonis.com
Properly groomed eyebrows can make a BIG difference to the face, meaning not just anyone can be allowed at it with a tweezer.
My brow-hair pattern is kinda in the middle; they're not sparse, nor are they overly furry.

Yet

they still require maintenance.
I

stumbled across

a wonderful woman who threads them inexpensively, and shapes them beautifully. But I don't want to go to her too often lest all that

yanking thins them out too much. I like a strong, full brow.
I gave myself a pep-talk. "Go on the internet," my inner sel

f urged.

"Find a tutorial. It can't hurt to look."
I found a few that were informative. For instance, I thought my brow was too full for the ministrations of a brow pencil, but I have disco

vered

that like a lip pencil,

it

provides definition, which solves my fear of thi

nning brows

. Also, trimming the brow is nothing to be frightened of.
I was absolutely in love with MissChievous' eyebrows, and then I realized they were mostly pencil and powder

.

Hey, I can do that!
I marched into my bathroom and rummaged for the brow brush I had purchased on Sephora.com to make free shipping and never used. With a pair of hair sheers, I carefully brushed up and snipped.
I was amazed at how a little trimming changed things. Plucking a few stray hairs, my brows were practically date-ready.
My hair sheers for bang maintenance were kinda big, so

I

bought

a pair of

Mehaz 4" Eyebrow and Mustache Scissors.
Next, to Sephora, to find myself

b

row filler

.
I was debating which I should purchase, a pencil or a powder. I first looked at the Illamasqua Eye Brow Cake, but the lightest taupe shade, "Motto," darkened my brows like the ones seen on the Altuzarra catwalk.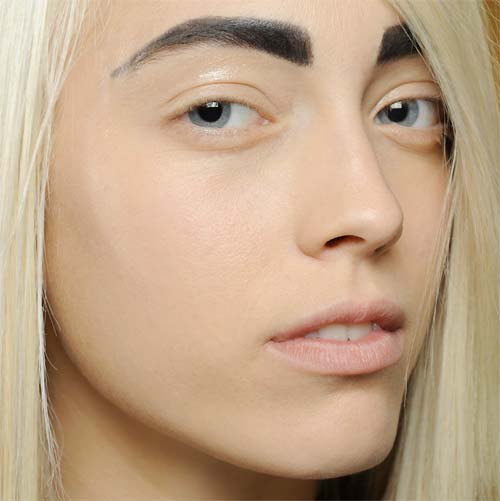 After wandering around Sephora a bit, refusing to look at anything glittery, I decided upon Tarte EmphasEYES for Brows High Definition Eye Pencil in "Taupe."
It is perfect. I am able to sketch that sharp arch,

the color

blend

ing

seamlessly

into my brows. "Taupe" is constantly sold out, so I must not be the only one who found it fabulous.Whenever I

see it in store I buy one.
Via xoxovalentinekissesxoxo.blogspot.com
Now, even if my threading lady plucks a little too much, I can still achieve the same fullness and shape with a little sketching.
Keep in mind that thin,

Veronica Lake

brows are so 1940

.
B

older, fuller, Brooke Shields brow

is

here to stay

.