The Crazy Ones, "The Face of a Winner":
This show is about an advertisement agency, zanily run by Simon (Robin Williams). Two campaigns have to be won: A spa-product company, and a violent video game. The two guys on the team, Andrew and Zach, are pumped for the latter account, whereas the gals, Sydney and Lauren, for the former. However, Simon wants everyone to get out of their comfort zones, and switches the assignments.
Simon: Lads on lotion, gals on guns. Go!
The staff are not pleased.
Andrew: Now we have to write about spa crap.


Zach: It's going to ruin women for me. The makeup, the lotion, the perfume . . . once you pull back the curtain, you see things you can't un-see. I don't want to know how the sausage is made.


Andrew: Yeah, well, the good news for you is you can't compete over spa products.


Zachary: Well, I bet you're thrilled about that because you wouldn't stand a chance being that your crow's feet makes you more bird than man.


Andrew: Oh, I'm sorry, I couldn't hear you over those sunspots you've been passing off as freckles.


Sydney: Boys, you're both lovely, and I'm sure any man would be very lucky to have you.


Both hetero-guys: Thank you.
Having no choice in the matter, Andrew and Zach begin to pile on the products.
And grow addicted. To the point that the two burst into Simon's office:
Zach: So, boss, we have something we really need to talk to you about.


Simon: It sounds serious.


Andrew: Well, I'm afraid it is. Whose hands do you think are softer?


Simon: Oh, I knew this day would come.
The gals, by the way, really enjoy the violent video game.
My dear fellows, there is nothing to fear from a little anti-aging product. No one has to know how your skin manages to stay youthful and glow-y; I won't tell.
There's more out there than just after-shave.
They can be discretely ordered over the internet, for instance; Amazon and Vitacost boxes will not "out" you. "This? Just my muscle-building protein powder. I'm haulin' 50 pound weights."
Luckily, companies have realized there is a gaping hole in their cream demographic, and have started to churn out bottles in shades of steel and navy to woo the dudes.
Like Zia Men Triple Protection plus Lotion SPF 15. There's anti-aging stuff in there as well as sun protection, and it's also for the er, hairless pate. Don't leave that territory unprotected, hombres. Sunspots are easier to prevent than to treat. Neutrogena Men Triple Protect Face Lotion SPF 20 is hailed as a best-seller on drugstore.com. It soothes razor burn too.
For cleansing, it depends on skin type. If acne is a problem, try Zia Men ActiClean Skin Clearing Face Wash or Every Man Jack Face Wash Skin Clearing Acne Cleanser.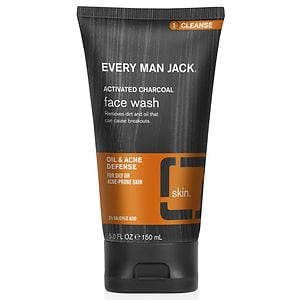 If one doesn't have skin issues: Dove Men+Care Body & Face Wash, Palmer's Cocoa Butter Formula Men's Body & Face Wash, Aubrey Men's Stock Basic Cleansing Bar.
For a weekly scrub to clear dead skin cells, Aubrey Men's Stock has a few options, or Nivea for Men Revitalizing Face Scrub.
Following cleansing at night (it's good to wash off the remains of the day), now some lotion is needed to combat the drying powers of the cleanser: Weleda Moisture Cream for Men, Bulldog Natural Skincare Original Moisturizer, L'Oreal Paris Men's Expert Vita Lift Anti-Wrinkle and Firming Moisturizer. These aren't for acne skin, though.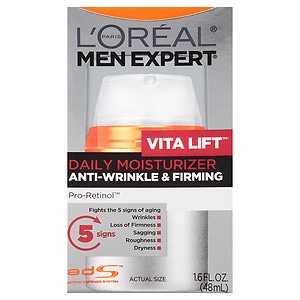 For acne creams, I couldn't find anything specifically targeted for men, but there are many options with unisex packaging such as Clean & Clear. Desert Essence Thoroughly Clear Oil Control Lotion looks pretty manly (they've got other great products in brown bottles).