Attending a Lubavitch wedding in 770 is like flipping through an issue of Bazaar.
Clothing: I will admit, being able to pull off colorful evening gear is not easy. There are all sorts of criteria - weight (satin, organza, and so forth), flattering cut, hue complimentary to skin tone, availability. But the women were a vivid display of color without having to sacrifice the cut of the garment. They were rainbow-esque and still looked good.
Another amazing thing was that most had dresses or tops with actual sleeves rather than wearing a bodysuit with a jumper. There was only a tunic or two on display; everyone was pretty much in sleeved dresses or suits.
It wasn't as though the dresses were expensive. Sure, I picked out some designer garments, but many of the wow-bang dresses were distinctly not pricey but were flattering.
For one thing, everyone's waists were defined.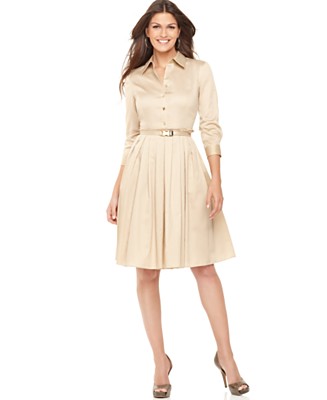 Ellen Tracy Shirtdress
Hair, specifically wigs: Short hair suits everyone. The older one gets, the higher yet shorter hair should be. And magnificently bouffant wigs reigned the evening, making all women of various ages shine.
I love Jane Fonda's hair.
Makeup: I was practically weeping with joy. PINK lips everywhere! Vivid, flattering, divine lips!
Oh, how beautiful all the women were! If anyone needs any fashion tips, I highly encourage them to crash a 770 chuppah.