One day on the train I noticed the girl next to me had on an engagement ring.
At least, I think it was an engagement ring. The diamond on it was a microscopic fleck.
I perfectly understand that when it comes to finances, one should always stay within their means, especially when it comes to something unnecessary like an engagement ring. However, where is it written that it must be a diamond? What if, by choosing something more affordable, like semi-precious, one could have a larger stone?
I love colored stones. I also love large stones. If I had to choose between a huge emerald-cut "something" or a teeny diamond, I'd rather go with the "something."

The world is filled with a bright, rainbow array of beautiful stones! Yet why do we covet the colorless ones? ("They sparkle so," Ma says longingly . . .)
Citrine (quartz family) is my top love. It has a warmth to it that flatters the skin, and looks beautiful with yellow gold.
Garnets' deep red evoke "Her price is far above rubies."
Peridot is usually an olive green, but can vary in intensity.
Topaz can be clear like diamond, but has a large range of hues and tints. There is Caribbean-beach blue, barely-there green, or citrine-like yellow, just to name a few.
Blue Topaz
Yellow Topaz
Tourmaline also comes in many shades, and I happen to like their pinks (and I am not even a pink person). Green tourmaline can look similar to an emerald. There are also "ombré
" stones that change colors.
Pink Tourmaline
Kunzite is a pale pink-violet.
Iolite is a rich, deep blue with violet undertones.
Morganite (or "Pink Beryl") is a pale pink.
Aquamarine (beryl family) is usually turquoise.
Amethyst (beryl family): purple.
Green Amethyst (quartz family) is actually regular amethyst that has been treated with heat, morphing the lavender shade to that of a refined barely-there green.
Pearl: With a variety of prices, quality, and colors, one can have a lot of fun there.
Alexandrite (chrysoberyl family, which is not the same as beryl): contains more than one shade in its greens and pinks.
Ametrine (quartz family) combines the two shades of amethyst and citrine, hence its name.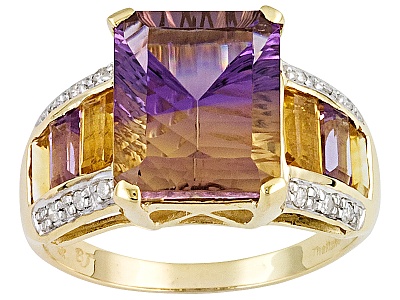 Avail thyself of rainbow hues to profess thy love.