As you may have noticed, I zealously attempt to shield my skin from sun damage. However, it is not always possible; Shabbos, for instance, has a frownie face when it comes to smearing on goopy white lotion. Also, I tend not to reapply during the weekday as how would I be able to not ruin "The Face"?
I have known about the existence of powder sunscreens, but I never really got to know them better. But pair a shmoiling Shavuos with my epidermis inadequately powdered with mineral makeup, I was drawn to this Vogue article advocating its benefits.
Colorscience was the one who first introduced to me the concept of mineral powder SPF, so I decided to go with it again. There are two Colorscience Sunforgettable SPF brushes; in SPF 30, and in SPF 50, and there is about a $10 price difference.
However, my sister had had purchased the brush a few years back and never managed to get it open, despite the fact that I called the company. So I decided to purchase the orb, which actually has more product than the brushes do, and apply it with my own powder brush (the puff that comes with it isn't that great).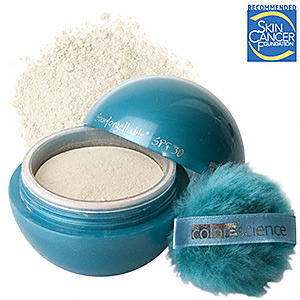 This is great for little kids who spend their Shabbosim shrieking in the backyard, or for baby legs dangling out of the protective shade of the carriage. Luke's kids burn in no time flat, so their skin needs shielding.
I brush it on my face, my neck, behind my ears, over my legs. Begone, sun damage!