I
didn't know what to use for Shabbos lipstick until I bumped into someone with magnificent lipcolor at a sheva brachos. "Mac Prolongwear," she firmly recommended. "I have to SCRUB it off on Motzei Shabbos."
So I trotted off to the Mac counter, and beheld a glittering array of colors. Glittering, literally. Prolongwear is a double-ended product, with color on one end and a moisturizing gloss on the other; if the color was glittery, then the gloss was devoid of sparkle, and vice versa.
The choice of shades weren't great, either. I like pinks for my lips, and the least glittery shades were were rather dull, with brown-undertones.
But it did stay on well over Shabbos, so I used those religiously for a few years.
One day my sister-in-law showed me her purchases at CVS. There was a "buy one get one at 50% off" sale by Revlon, and she had quite a few cheerful, non-glittery shades in her bag of Revlon ColorStay Overtime Lipcolor.
Of course I tried it out, and I was amazed how it seemed to last better than the Prolongwear.
But it is hard to figure out the colors. The names don't remotely reflect how the colors look in real life, so it takes some experimenting. (CVS has a return policy for cosmetics, which is helpful).
Keep Blushing

: A light pink with a frost finish. Looks great on teenagers.
Infinite Raspberry

: Pale pink with lavender undertones. If one is going for tame lipcolor, this is a good option.
Perennial Plum

: I wouldn't touch this for years since I thought plum = purple, but I finally bought it and love it. Primarily pink, it is more like a lip-enhancing shade. Looks flattering without going overboard.


Non Stop Cherry

:

A dramatic pink-red.
Forever Scarlet

: A bright orange-pink-red. Festive and summery.
Stay Currant

: A deep brick red. For golden or darker skintones, I would say, rather than white-fair. Appropriate for winter.
Ultimate Wine

: Nothing remotely wine-like about it. I'm not sure how to describe the color—but it is on the tamer side, with bronze undertones. It has sheen, so it is not my personally favorite shade, but it is a nice neutral.
Always Sienna

: Another "can't quite place the color" hues, but I would say it is like a darker version of Ultimate Wine.
Do to the nature of these longwearing products, I would not recommend them for a two day yontif. After 25 hours, the color flakes and cracks off unappealingly. I'll go through yontif lips later.
When applying, be sure to let the lipcolor dry thoroughly before applying the gloss. This makes a big difference in staying power. I put on the color early on while applying the Face, giving it plenty of time to dry. Last thing to do is brushing on the topcoat.
Because long-lasting lipcolors dry to a tight finish, the purpose of the moisturizing topcoats is to provide comfort of movement. The gloss, I have noticed, sinks in better and lasts longer (even overnight) rather than the balms, which some other longwears come with.
I have tried other brands, like Maybelline and L'Oreal, but the rare matte shade would be blah, or the applicator was ridiculous,
or it felt just nasty on my lips,
or instead of a glossy topcoat it would have a balm instead, which not as nourishing.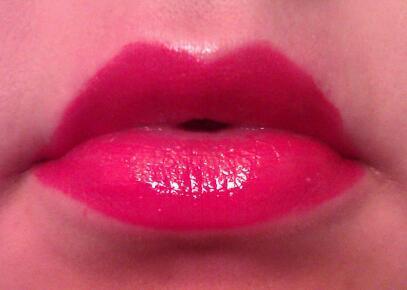 Via beautylish.com. Revlon Colorstay Overtime in Forever Scarlet
As I mentioned in my lipstains post, these colors can change dramatically depending on the lipstain hue. Therefore, there are really a host of possibilities. For instance, if I use a red stain under the Perennial Plum, it becomes more dramatic.
While these are long-wearing, they aren't tattoos. No biting into apples; maneuver forks and spoons that they should not touch the lips; straws while drinking is a good move. But even if you mess up they are very forgiving.
To remove after Shabbos, one may need to bring out the lip scrub again.
Have a glamorous Shabbos!